Competition – Fööni goes to Parasummer
Theme: THIS IS HOW I LOOK LIKE WHEN I FLY IN FÖÖNI
Prize: Best picture of the boogie will get 30min of proflyer tunnel time.
Rules: Post your picture in Facebook (public post) with #parasummer and #fööni / #fooni hashtags and you are part of competition
Master judge: Sami Juutinen – one of the owners of Fööni who is attending the boogie as well (you can ask him about Fööni and flight time packages).
Demo landing in Kuressaare!
Demo landings have been taking place since 2003 – TV evening news, online media and daily newspapers have never missed it. The most crowded beach landing in Pärnu had approx. 10 000 spectators. Lots of excitement and adrenaline will be in the air!
This year we will have demo landings in Raiekivi säär in the centre of Kuressaare and most probably a few awesome inhopps as well.
We normally require the participants to have a minimum of 300 jumps. It will be specified by the organizers before the event (depending on the weather conditions and landing area risk factors).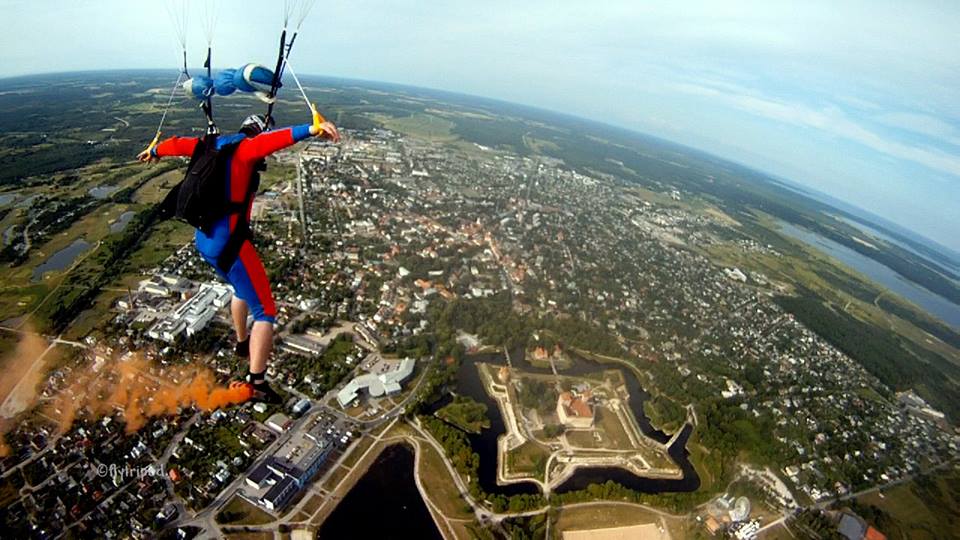 Evening Events
Every evening @ Parasummer camp
22.00-00.00 Sauna (no pants!) and pool
Daily videos and FREE raffle with awesome prizes from our partners!
"Töllu Möll" party – July 16th 19:00 at Suure Töllu boogi camp
Participation fee 19 €.
Sign up latest on July 15th until 12.00 AM
Come and enjoy an awesome summer night at our boogie camp! You can expect tasty food and drinks, bonfire, weird games and sauna. Music performance by a band called "Insainers": 90% engineers, 100% insane (and 20% skydivers?!). We promise it will be a super cool evening!
Registration will open soon.
Closing party – July 19h 20:00-23:00 at Kuressaare Castle
Bus will pick us up at the boogie camp 19.15.
Participation fee 44 €.
Sign up latest on July 17th until 12.00 AM
Kuressaare Castle is one of the most interesting and best preserved fortresses in Estonia. The castle has become one of the most remarkable buildings in Northern Europe built during the 14th–19th century.
Parasummer's 20th anniversary is also remarkable so we invite you to celebrate it in this magnificent castle while enjoying great food, drinks, cake and music.
The spirited evening is hosted by the handsome Australian comedian Louis Zezeran, so you can expect to have a lot of fun. Come and celebrate with us!
Registration will open soon.
Save
Save
Save
Save
Save
Save
Save